Author: rpetrich // Category:
Apps
,
Jailbreak

Action Menu adds additional actions to the cut/copy/paste menu on iOS3.x and, with the 1.1 update, now on iOS4.0, iPad and iPhone 4′s Retina Display. New plus pack actions include Locate, Find and Send to Pastie.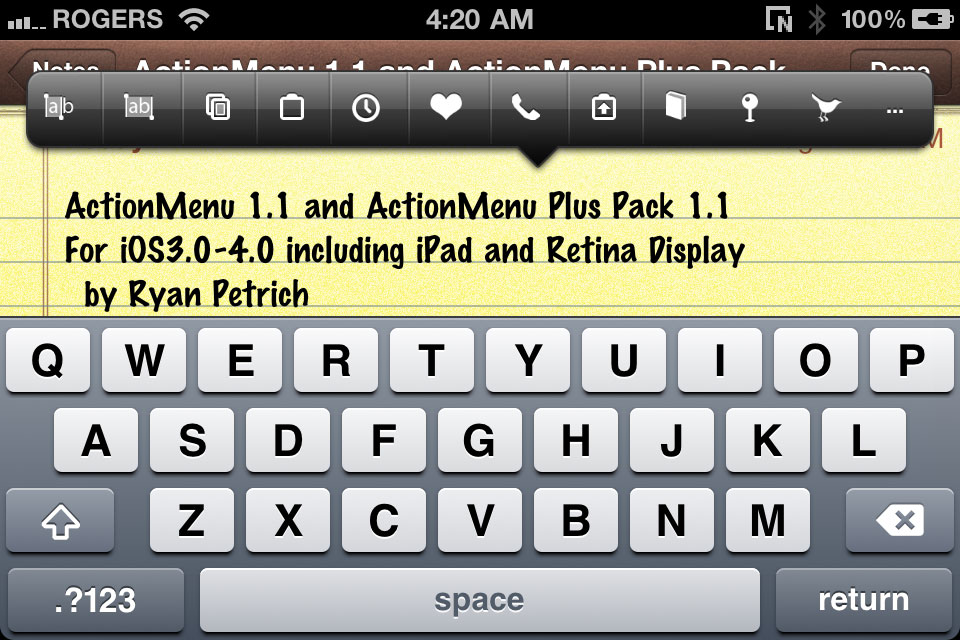 Included in Action Menu (free):
Copy All sends the entire text in the current field, all the items in the selected table, or the entire text of the web view to the clipboard.
Dial sends the number present in the field, web view or active table cell to the Phone application.
Favorites presents a list of common phrases to paste into the current text field. List is customized via the Settings app.
Scroll provides quick scroll to top and scroll to bottom buttons to make navigating tables and web pages quicker.
Included in Plus Pack ($2.99 for all six):
History maintains a record of items that have been added to the clipboard for quick and easy pasting.
Lookup integrates with Google Search, Wikipedia, Dictionary and Google Translate to provide quick info on the selected text.
Tweet sends the selected text to your favourite Twitter client so you can get the word out.
Locate pastes a link to your current GPS location on Google Maps.
Find allows searching within a page in Safari, Twitter for iPhone and other standard web views.
Send to Pastie uploads the selected text to pastie.org for easy sharing.
Other @rpetrich packages updated recently:
HapticPro added support for iOS4.0 and iPhone4
DisplayRecorder added support for iOS4.0, iPhone4 and iPad
DisplayOut added support for all devices on iOS4.0 (and improved display quality on iPad)
Activator added full support for iOS4.0 and Retina Display images
Mark Bruce & Kory Lee
Tags: action menu, actionmenu, display out, display recorder, displayout, petrich, rpetrich
33 Responses to "Action Menu and Plus Pack v1.1 Now Out"
Leave a Reply