Author: BigBoss // Category:
Jailbreak
,
News

Geohot has released blackra1n.  This is a 3.1.2 jailbreak for all devices: iphone 2g, iphone 3g, iphone 3gs, ipodtouch 1, 2, 3 (note: ipod touch 3 8gb users say this isnt working). It's pretty easy. You just load the app and click the "make it ra1n" button and follow the prompts. Unfortunately, the ipod 3 is tethered which means if you reboot you have to run blackra1n again.
This is also a jailbreak only. There is no hacktivation or unlock. If you have updated in itunes to 3.1.2 or have an out of box 3.1 iPhone 3g / 3gs, you cannot unlock due to the new baseband, you can only jailbreak. If you have a 3g / 3gs running an older iPhone software and want to update and unlock, wait for pwnage type exploit that lets you update without updating the baseband.
From geohot: So, what is blackra1n? blackra1n is a 30 second ALL device 3.1.2 jailbreak. Even the ipt3, but the ipt3 is tethered. In order to boot it, just rerun blackra1n. As far as donations go, they are much appreciated, but not until after blackra1n works for you.
To use: load the app and follow the prompts. It's pretty simple. If you have problems, see troubleshooting section below the last step of the tutorial.
Step 1) Install blackra1n and iTunes 9 or newer.
Step 2) Close itunes and kill iTunesHelper.exe in taskmanager.
Step 3) Attach your device to your computer using the cable, and run blackra1n. You see this:

Step 4a) Hit the "make it ra1n" button. You will see this:


and this


and finally this. This step should only take a couple seconds. If it hangs on running you have itunes helper still running.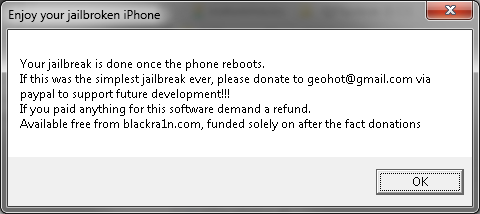 Step 4b) Now, watch your iPhone. It will soon show this. When it reboots it is done: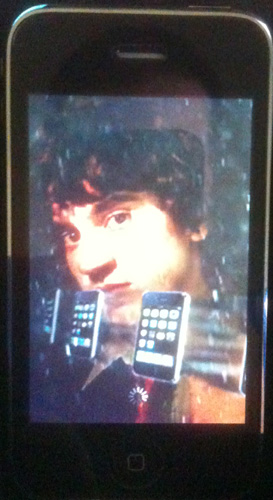 Step 5) Now the jailbreak is done, it's time to install cydia.
Note: There is plenty of discussion on whats better between cydia, icy, and rock app. I can tell you that Cydia is strongly recommended even if you don't want to use it. It does everything right and installs a proper BSD base. Rock app is flashy and cool also. The jailbreak install of Rock does not install rock extensions so it is ok to install.  The icy install is broken on this jailbreak (version RC1). At this time, I recommend not installing it. It does not get installed with super user permissions and cannot install software properly.
EDIT: ABSOLUTELY DO NOT INSTALL Icy. It overwrites dpkg especially if you install it last. Result will be you cannot install mobilesubstrate or anything that depends on it (libhide, sbsettings, categories, etc). This is because a bad Icy bundle was used.
On your device you now have a new icon: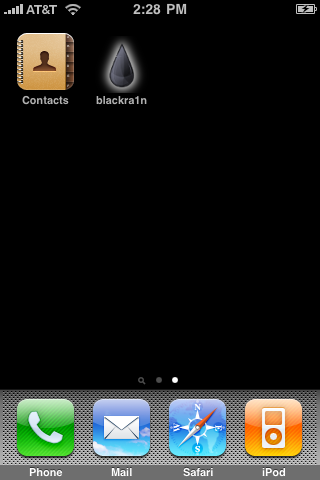 Load this app and select your installer preferences. Remember, we are not skipping cydia, icy doesnt work in RC1, install Rock App if you want also.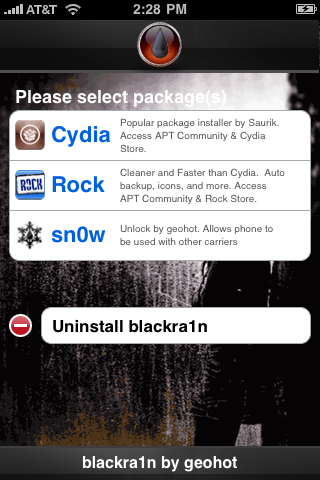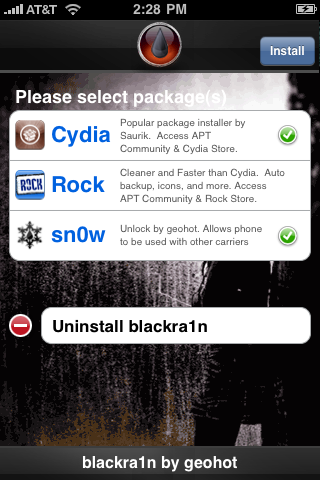 Your selections will now install: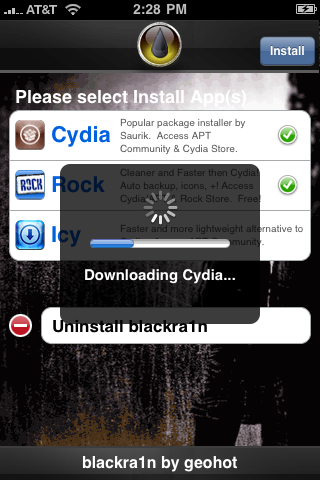 Step 6) When you are all done, load up blackr1n again and use the uninstall blackra1n to remove the blackra1n icon. It's not needed any longer.
Step 7) Load Cydia, let it reorganize your apps, do the upgrades, and install your software!
Troubleshooting:
1) Blackra1n just crashes – You don't have itunes 9 installed or your apple mobile device service is not running. Install itunes 9 or reboot to solve.
2) Blackra1n says it's missing QTCF.dll. Put QTCF.dll into the same folder with blackra1n.exe and run it again.
3) Blackra1n hangs on running… – You need to kill iTunes and iTunesHelper.exe.  This step should only take a couple seconds and something should happen.
Mark Bruce & Kory Lee
Tags: blackra1n, jailbreak 3.1.2
347 Responses to "Blackra1n iPhone 3.1.2 Jailbreak"
Leave a Reply