Author: mringwal // Category:
Apps
,
General

After the popular BTstack Keyboard and Mouse, yet another BTstack-based application has seen the light:
BTstack GPS allows to connect an external Bluetooth GPS receiver to your iPod Touch, iPhone, or iPad and use it with all your GPS-enabled applications, no matter if you want to drive, sail, or even fly.
Are you interested in using your iPhone 3G(S) instead of an external GPS? Sorry, wrong product… But we're looking into that, too.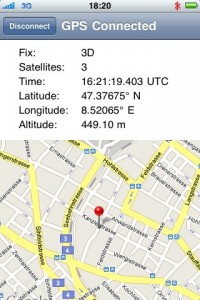 Usage is simple: Launch the GPS app, wait until the external GPS device gets detected, select it, pair if it's required, and wait for visual feedback of your current location on a map. Now, leave the app with the HOME button (note: there's an ON badge on the application icon now) and launch your favorite location-aware application. To disconnect from the GPS, just start BTstack GPS again and press the "Disconnect" button.
Attention: BTstack GPS will automatically disable Apple's Bluetooth on start, as only one Bluetooth stack can be active at a time.
The demo version allows you to check that you can receive correct GPS data from your device, it does not forward the GPS data into other applications. To enable this feature, you have to buy the full version which is avaible in the Cydia Store for USD 5.
"It's just awesome for my new iPad Wifi!"
Mark Bruce & Kory Lee
Tags: Bluetooth, BTstack, gps, Navigation
26 Responses to "BTstack GPS 1.3 released!"
Leave a Reply