Author: BigBoss // Category:
Apps
,
Jailbreak


I have removed the firmware 313 spoofer from Cydia and instead placed a firmware 313 spoofer *app* into Cydia. This time, rather than rely on cydia to copy the files, I have an app that will let you load it and toggle the firmware from 3.1.2 to 3.1.3. Note that it does require a reboot after toggling in order for this to take effect. In hindsight, having Cydia copy the files was a bad idea because it seems Cydia has crashed on some installs or the scripts have not completed for some reason causing problems on uninstall. The new app will solve that as it removes all the scripts from cydia.
The app still just edits the file at /System/Library/CoreServices/SystemVersion.plist, which you can manually edit if you so choose.
If you installed the previous version of firmware spoofer, I suggest you do not remove it (ever) as there was a bug in the uninstall script that could remove your firmware plist. Just use this new app instead to select which firmware you want. Selecting 3.1.2 and rebooting is equivalent to uninstalling the old tweak
App is basic but functional: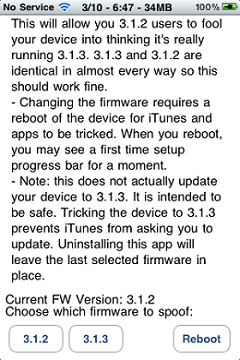 And some quick comments to some questions I keep getting:
1) No, this does not actually update your firmware to 3.1.3
2) No this does not impact tethering tweaks or other tweaks. It just changes the *reported* firmware version
3) No this does not break your unlock or cause "no service"
Remember that you have to reboot for this to take effect even though the settings app shows the version change immediately.
Final note: if you want this to remain permanent you can uninstall the app after selecting the firmware so you don't have to have the icon. The last firmware you have chosen will remain. If you wish to change it later you can always reinstall the app and change it again.
Mark Bruce & Kory Lee
126 Responses to "Firmware 3.1.3 Spoofer App in Cydia"
Leave a Reply