Author: pH // Category:
Development
,
Repository

Hey guys! Here is pH. I'm new here and I'll post all my tools here. BigBoss is hosting everything on the repo (thanks, :) ) and, if you want, click here to visit my english blog (ipHrojects) or click here to visit my brazillian blog (iBlogeek).
My first public tool is called iPhone OS C/C++ Compiler. It's a C/C++ compiler for iPhone OS that supports libs like iostream, stdio.h, math.h, etc.
I've been working hard on it and I think this will help all the C/C++ developers that want to port their programs for iPhone OS. The objective is not a 100% working program (because you don't need to change a line of code to compile it using iPhone OS C/C++ Compiler), but a preview of a 100% working app (written in Objective C).
The coolest thing of the compiler is that you can get the code from three ways: write your own from zero, download the code from internet or compile an existing code that is in your iPhone/iPod touch.
Here is a screenshot of the compiler running in MobileTerminal (but you can run it over WiFi too using your Unix-Like terminal):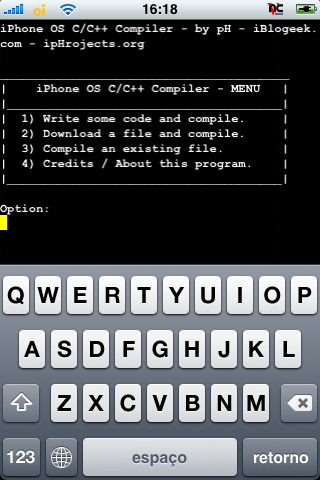 After installing it from Cydia (the package is called iPhone OS C/C++ Compiler), in MobileTerminal (or any Unix-Like terminal that supports SSH), type "compiler" to run the compiler.
Follow the Screen instructions.
Enjoy, :D .
Mark Bruce & Kory Lee
Tags: Development, iphone compiler, iphone gcc, toolchain
41 Responses to "iPhone OS C/C++ Compiler"
Leave a Reply