Author: boopyman // Category:
Apps

ScreenRecorder is a very useful little utility that lets you take video captures of your screen. This app is almost a necessity whenever you need to make a video on your iPhone without the use of a computer. Some examples of what you might need this application for are making a tutorial, a demo, or just an explanatory video for a friend who needs some help on his device. You could even use this app as a "Notes" application, with the only difference being that instead of having to write everything down, you can just film it! As a plus, you can record your voice with a microphone and email the video for viewing on a computer!
This app was rightfully criticized in the past for having a huge memory problem, which was fixed in more recent versions. Here is a list of all updates since the original release:
1.3:
-Now has "saving" screen. (Prevents many errors related to users tapping buttons while video is being saved)
1.4:
-Saving screen now adapted to length of video.
-Audio recording.
-Video length much closer to actual capture time.
1.5:
-Videos capture time virtually unlimited.
-Videos now in portrait mode.
-Better UI
1.5.1:
-Fixed email problem.
If you want to see an example of the result this app can give, view this video:
http://www.youtube.com/watch?v=xvbOzgiugcc
Here is a screenshot of the application: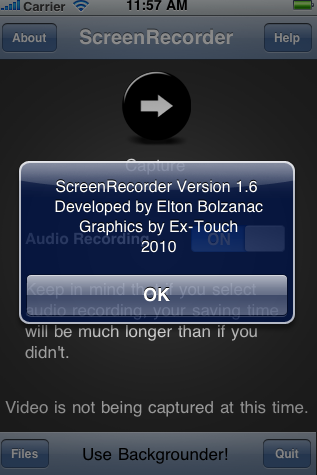 ScreenRecorder is available in the Cydia Store for $1.99. If you want to try the application first, please don't download a cracked version, there is a free demo in Cydia called ScreenRecorderDemo tadacip.
Mark Bruce & Kory Lee
Tags: screenrecorder
18 Responses to "ScreenRecorder"
Leave a Reply