Author: pH // Category:
Apps
,
Jailbreak

Hey Guys, here is pH. During this days, me (pH), EvilPenguin and BigBoss created a tool called 3G Baseband Downgrade. This tool will help you to downgrade your iPhone 3G Baseband, from 02.30.03 to 02.28.00 (then, the Yellowsn0w is suported).
The 3G Baseband Downgrade is so simple to be used because there's a GUI! BigBoss helped us with the GUI and bugfixing the downgrade script, doing a fantastic work, thanks! EvilPenguin done the .sh scripts for the Downgrade and I (pH) merged everything!
The 3G Baseband Downgrade just works on iPhones 3G with Bootloader 5.8, that can be detected using minicom. If you don't know how to use minicom, there's a "simple" way to know if you are 5.8 or 5.9 (but this is not 100% sure). If your iPhone was manufactured before September (2008), you are 5.8. Otherwise, you are 5.9 (that can't be downgraded).
The tool (3G Baseband Downgrade) is now on TheBigBoss repo. Just download it from Cydia, open the app and click Go. Wait a moment and you'll see if your iPhone was sucefully downgraded or not. Working great, you must try it, :P .
Screenshots: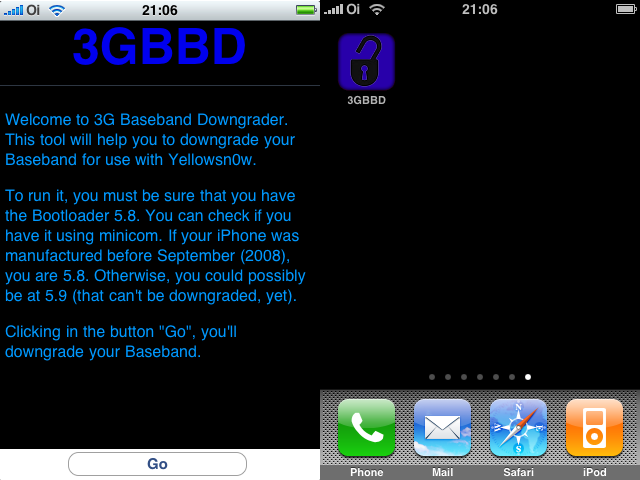 If you are having some problem using the 3G Baseband Downgrade, e-mail me or post a comment here that I'll try to answer them as soon as possible.
Bye!
WARNING: This tool is NOT a toy. Just use it if you can't use Yellowsn0w on your 2.2.1 iPhone 3G. Otherwise, DO NOT INSTALL IT JUST TO TEST! YOU HAVE BEEN WARNED!
Edit: if you have bootloader 5.9, this should not cause any harm. It should simply fail. You will then have to reboot your iPhone and should be back up to where you were before running the tool.
Mark Bruce & Kory Lee
Tags: baseband downgrade
178 Responses to "3G Baseband Downgrade GUI"
Leave a Reply