Author: KvX // Category:
Apps
,
News
,
iPhone

One of the cool new features of iOS 8 is the update to Siri called "Hey Siri". Hey Siri allows you to to say the words "Hey Siri" at anytime regardless if your iPhone is locked or not to begin using siri. It is a very useful hands free way to use Siri, the problem however is the need for your device to be plugged in to use it.
Having a tool that you can only use some of the time ensures that one will use it none of the time. The UnTetheredHeySiri App/Tweak available in the cydia store solves this issue. The UnTetheredHeySiri App allows for "Hey Siri" to be used regardless of if your iPhone is plugged in or not. The setup is also extremely simple, once you have downloaded and installed from cydia simply go to the Settings>General>Siri and enable the settings to use Hey Siri even when you are not charging.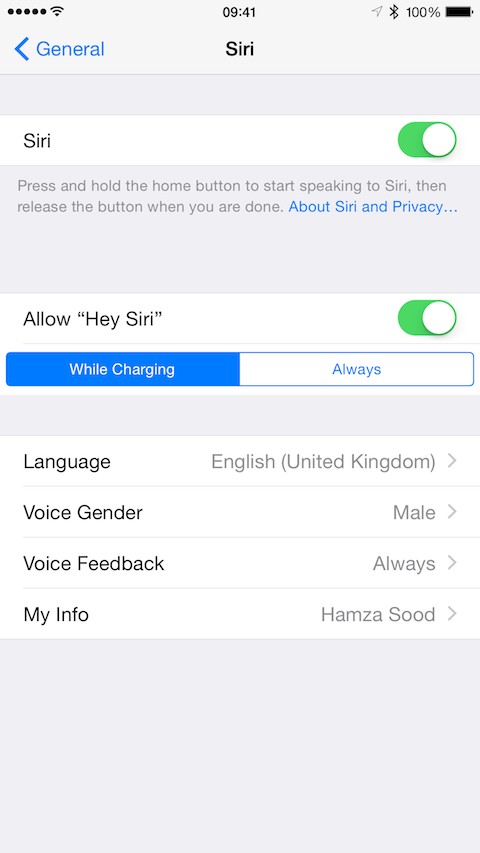 With this you need to be aware that your battery won't last as long when having Hey Siri enabled. You will also need to have your iPhone jailbroken with iOS 8 for UnTethered Hey Siri to work, if you do not want to have your device jailbroken below is a work around for the time being that works.
Non Jailbroken iPhones work around for using Hey Siri UnTethered
Turn on "Hey Siri" in Settings>General>Siri
Activate Siri as usual by holding the home button for a second and then releasing.
Say Nothing! and let Siri time out
You can now say "Hey Siri" to launch Siri as long as your iphone does not lock or idle off it will work. As you can see this way is not as good and likely will get patched with an iOS update. I recommend just jailbreaking your iPhone and installing UnTetheredHeySiri. If you don't know what Jailbreaking is click here to find out.
Mark Bruce & Kory Lee
Leave a Reply