Author: KvX // Category:
Apps
,
News
,
iPhone

Have you seen the new UI for the Apple Watch? Well if you haven't you should because it looks pretty awesome. In fact if looks like something you would want your iPhone springboard to look like. With this I bring you Aeternum a theme for iPhone and iPad created for anything running iOS 8 (Works on iOS 7 but is a bit buggy as it was developed for 8). Aeternum brings you the look and feel of the Apple Watch UI right onto your i Device and it does it well.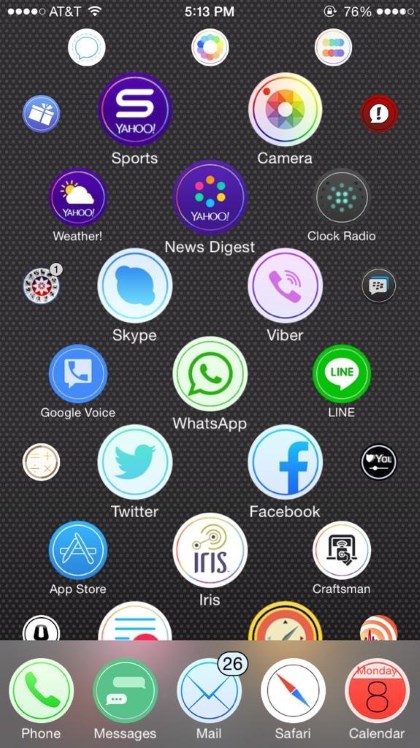 There are a few Apple Watch themes available in cydia but Aeternum is by far the cleanest, easiest to use, most robust and stable. I have had Aeternum installed as my primary springboard theme for going on a month now using my iPhone 6 and 5s. I have not had any issues or serious complaints. It has performed as I expected, it lays out your springboard to look and respond like the apple watch UI. In addition I have received compliments and inquiries as to how I got my iPhone to look so cool.
Features:
Apple Watch SpringBoard UI(User Interface)
Dock and Spotlight integration
Rearrangeable icons
Ability to sort icons by usage counts
Detailed and smooth animations
Fully themable
Various settings to adjust it to your needs
Simple actions to Hide/Show Aeternum using Activator(Default setting is three presses of the home button)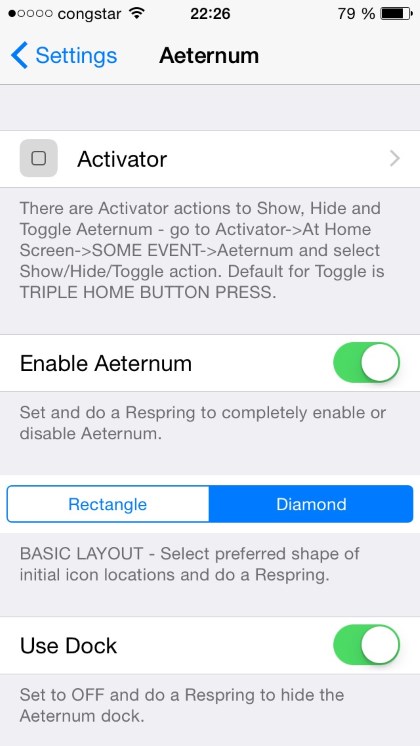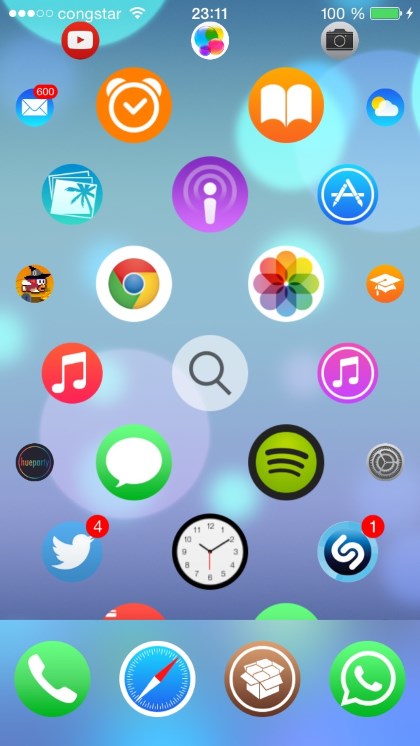 So there you have it a functional and beautiful theme for your iPhone that is available in cydia for purchase. If I were to make any suggestions to improve Aeternum it would be adding two features. 1. Allowing icons to be used as folders, they could just be round folders to fit the theme. 2. Having a way to enable a grid on the springboard layout(It can get tricky and take time to align the app icons in the spot you want them to be without effecting all the others). With that said, it is a darn good looking theme and well done and one I plan on using for quite awhile.
You will of course need your iPhone or iPad jailbroken. To learn what jailbreaking is click here or to get the package to jailbreak it now click here.
Mark Bruce & Kory Lee
Tags: Aeternum, Apps, iOS, ios 8, ios apps, ipad apps, iphone apps
Leave a Reply