Author: occipital // Category:
Apps
,
Repository

BigBoss Edit: If this was crashing for you, it was probably fixed on 1.0.2. Congratulations to Occipital on this nice app. I think this is one of the most innovative apps on the iPhone. It finally takes the crappy camera and does something pretty ok with it. I plan to update my reasons to jailbreak with this.
At Occipital, we've been working really hard on a better camera application for the iPhone, called ClearCam, and we finally launched it on BigBoss/Cydia!
ClearCam takes 6 photos in 2.5 seconds, fuses them together using an algorithm called super resolution, and creates a sharper, 4 megapixel photo with less noise. There is also a QuickShot mode that takes 4 photos in under 2 seconds and saves the sharpest to the camera roll.
Here is a normal iPhone photo: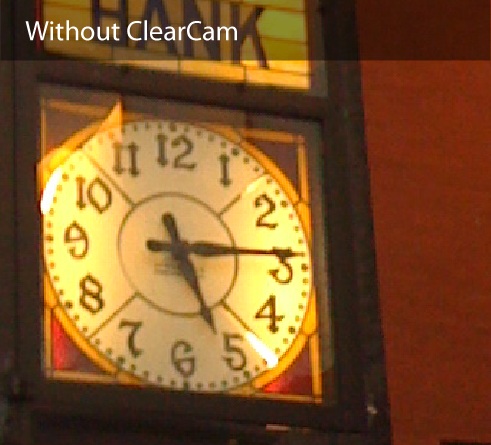 And here is the same view, enhanced with ClearCam: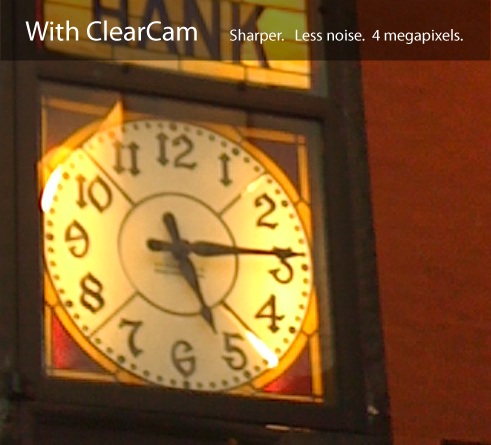 We spent a lot of time optimizing our code to make it run fast enough on the iPhone. A lot of our effort went into being able to align photos precisely with sub-pixel accuracy (required for super resolution), and to also do it fast.
You can check out more information at our site. There's also a pretty good post about it here.
If you've been hoping for better photos from your iPhone, give ClearCam a try. If you really like it, feel free to buy it and support some hungry programmers =).
Mark Bruce & Kory Lee
Tags: camera, clearcam, occipital, super resolution
51 Responses to "ClearCam – sharper, 4 megapixel photos with your iPhone"
Leave a Reply