Author: Dustin Howett // Category:
Apps
,
Jailbreak
,
News

The latest release of Safari Download Manager, 1.5, brings SDM up-to-date with all modern iOS devices!
SDM 1.5 works on all OS versions from 3.0 to 4.x, on all existing devices, including the iPad and iPhone 4! Possibly best of all, this upgrade is free to all existing users!
This is a special moment for Safari Download Manager, as this is our first release since SDM's 1-year anniversary. We decided to make this one extra-special, and put a lot of time and effort into making it the best SDM yet! We hope you agree, please let us know in the comments section below :-)
There is a screenshot of SDM-on-iPad action after the fold. (SFW)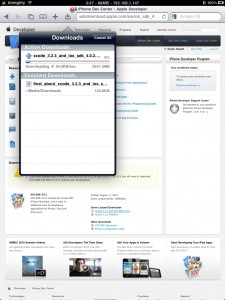 New in this release:
- iPad, iPhone4 support
- iOS4 support
- Ability to select your download destination for each download anywhere inside "/var/mobile"!
- Default download directory changed to ~/Media/Downloads
- Ability to resume almost all downloads
- Ability to configure number of retries
- Ability to configure number of concurrent downloads
- Download list saved across Safari restarts, downloads continue in background and resume on restart if Safari ever closes
- Will not overwrite current files, renames to a non-clashing name (e.g. "File-1.mp3″)
- Ability to download files larger than 2GB
- Tap-n-hold downloading of images to disk
- Various performance improvements, bug fixes, improved stability, better memory management, etc
Mark Bruce & Kory Lee
78 Responses to "Safari Download Manager comes to the iPhone 4, iPad, and OS 4.0"
Leave a Reply