Author: KvX // Category:
Apps
,
News
,
iPhone

Annoyed by having to put your passcode in when you restart your iPhone? Wish the Bio lock was enough? Then you are not alone. Personally its just a minor annoyance for me and one of those things I would rather not have to do as I prefer speed and efficiency.
So with this minor annoyance in mind I went out and found BioBoot, an App / Tweak available in cydia. Now this review was pretty easy going since it really just needed to do one thing, and that is not require the passcode on reboot. So without further ado I installed BioBoot on a iPhone 5s and 6. The instal and setup of BioBoot was very easy, upon re spring you put in your passcode. If you forget to do it on re spring just lock your device and unlock with passcode. Once this is completed you are passcode free on reboots.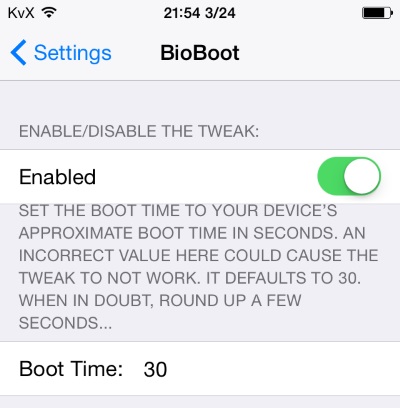 Now if for any reason you have issues or require additional setting changes BioBoot does have one setting that can be adjusted. That is setting your devices estimated boot time. It defaults to 30 seconds, but if for any reason your device does not work with that setting it can be changed.
All in all this is a very good and annoyance fixing tweak / app available to you right from within cydia off our repo.
Mark Bruce & Kory Lee
Leave a Reply