Author: KvX // Category:
Jailbreak
,
News
,
iPhone

Update: iOS 8.2 Just released, click here for info.
There are many rumors currently surounding the release date of iOS 8.2, the only certain thing is Apple is the only one who truly knows. However you should expect to see iOS 8.2 released this month if not within the next week or so.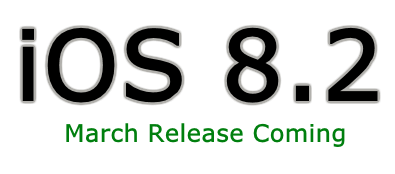 A few things point to seeing a release within the next week or so, first off iOS 8.2 has been in beta since the end of last year, also Apple is having a special event on March 9th in which all clues point to this being the debut of the Apple watch. The apple watch will run on iOS 8.2, so one would expect that in order to release the watch you would have to release 8.2 as well. This doesn't mean it will immediately release an update for 8.2 during the event but you can bet it will happen very shortly following.
When iOS 8.2 is released and if you are jailbroken DO NOT JAILBREAK, you can rest reasonably assured that a jailbreak will follow pretty shortly for 8.2. I am sure PanGu and TaiG cant wait to unleash the new apple watches potential.
Click Here to see the current status of a jailbreak for iOS 8.1.3
Mark Bruce & Kory Lee
Leave a Reply