Author: biteSMS // Category:
Apps
,
Development
,
Jailbreak
,
Repository

You love your iPod touch as much as we do? Wish you could send SMS messages from it? Now you can: nibbleSMS lets you send SMS messages directly from your iPod touch! Although you can only send SMS messages, not receive them, it's still convenient and cheap.
Although the nibbleSMS application is free, to send SMS messages you'll need to buy credits.
For details on our great rates, our world-wide coverage and of course to buy credits, go to http://nibblesms.com.
Note: nibbleSMS is for the iPod touch only, and biteSMS is for the iPhone only.
Screen Sample – Conversation List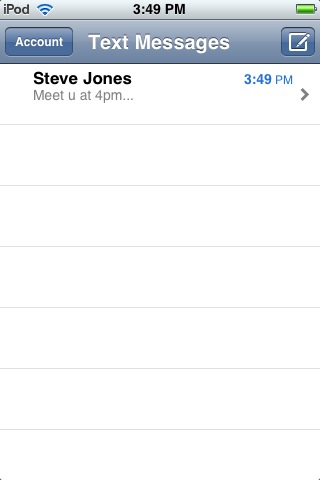 Mark Bruce & Kory Lee
5 Responses to "nibbleSMS – SMS from your iPod…wow!"
Leave a Reply