Author: freeterra // Category:
Apps
,
Jailbreak

In this version we added new detection method – EasyMethod.
It's ability to detect the most opportune time for awaking WITHOUT ATTACHING your device! In the past you had to attach the iPhone to your wrist. Now you don't have to.
This method uses more sensitive accelerometer settings to detect your night movements via mattress vibration. Just place your iPhone/iPod Touch on a surface (mattress) near you. And set your alarm window.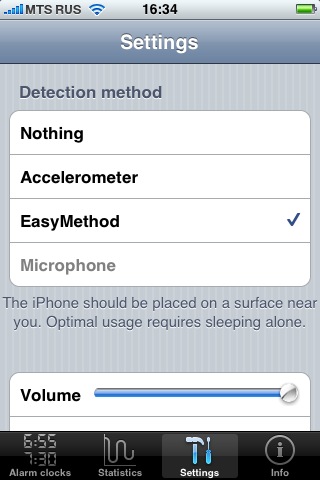 Also we updated user interface part of application.
And many other minor improvements.
For more information please visit our site: EasyWakeup.net
Mark Bruce & Kory Lee
Tags: alarm clock, easy wakeup, easywakeup, smart alarm clock
4 Responses to "EasyWakeup v2.5 Update"
Leave a Reply