Author: w1kedZ // Category:
Apps
,
Jailbreak
,
News

3G Fuzzyband Downgrader is now available in cydia.  This should be used instead of 3G Baseband Downgrader for downgrading the baseband on phones containing the 5.8 bootloader.
Benefits over original downgrader:
Does version checking, will only downgrade if phone is eligible
Downgrades all versions of baseband from 2.30.03 to 4.26.08 (3.0 beta5)
Reports current bootloader version on screen
The original downgrader was a possibly dangerous app, as it relied on a failed downgrade to decide whether downgrading was possible.  Anytime you run BBUpdaterExtreme you are potentially doing damage to the modem, so the version checking in this app minimizes the chances of accidently corrupting the baseband.
Questions, comments, and suggestions should be sent to w1kedZ or DHowett at fuzzyband@peacefulinsanity.com
Screenshots below: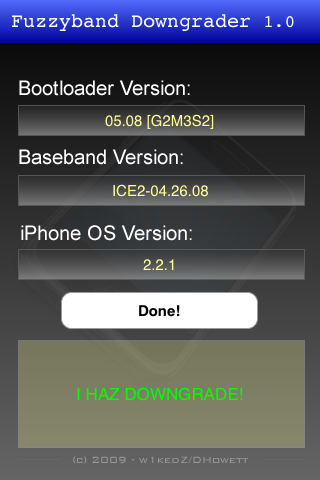 In the news:
appleiphoneapps.com: Downgrade Baseband for Yellowsn0w
Mark Bruce & Kory Lee
Tags: baseband, downgrade, fuzzyband, yellowsn0w
169 Responses to "Fuzzyband replaces 3G Baseband Downgrader"
Leave a Reply