Author: BigBoss // Category:
Apps


Update v1.1b: Added app icons for apps that are running. See updated screenshots below.
Today I released v1.0b of the Processes Widget for SBSettings. This is a task killer widget that displays tasks and lets you kill them (from within any app).
To use, just bring up SBSettings, select "Processes", then delete the task you want to kill. If you have SBSettings 1.07 or newer, you can see the available memory is freed up within a second or two.
To make this more usable for the masses, this is not like a full "top" app. Only tasks you launched from springboard and may want to kill are included. Apps like top show every process on the system. But you most likely do not know what any of those are nor should you be killing any of them. Instead, this takes the approach to be a bit more friendly and only show you the apps you care about. The ones you know of and are should be able to close. The tasks displayed are ones that stay backgrounded when you press home and / or tasks that were backgrounded with the backgrounder app.
Note: some tasks, the iPhone will start right back up if you kill such as phone or mail.
In addition, I released SBSettings v1.0.7 today which adds a total available memory line on the text display. This replaces the iphone name which was not so useful.
Note that deleting safari task frees up 4 mb of RAM in the screenshots below: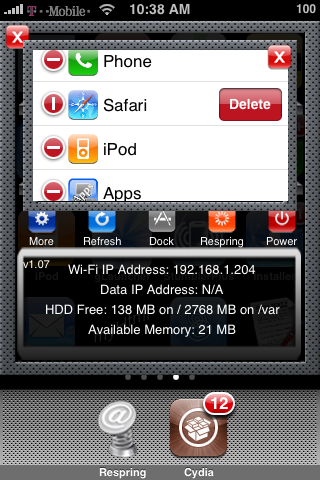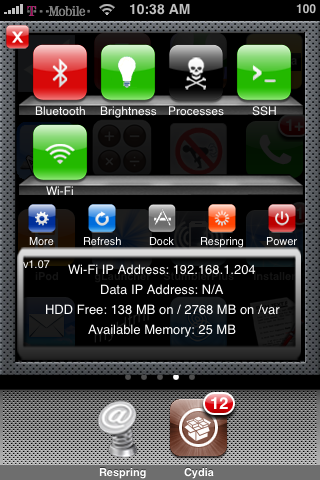 Mark Bruce & Kory Lee
Tags: SBSettings, sbsettings processes, sbsettings task killer, sbsettings tasks, sbsettings widgets
111 Responses to "SBSettings Processes Widget"
Leave a Reply