Author: BigBoss // Category:
Apps
,
Uncategorized


Update v1.0.6 (Nov 30, 2008): Made a couple small changes to the "more" app to hopefully address those that find it crashing as soon as it loads. Please try it out and let us know. If it crashes once, run it again. It attempts to do something different if it detects that it crashed the previous run.
Update: v1.0.5 – I gave up trying to fix a problem I cannot reproduce and decided to work to avoid it. I added a "blank fix" button to the dock icons screen and removed the automatic blank fix that caused the problems.
So many of you are still reporting crashing on the "more" app when you try to modify your dock icons. We still cannot reproduce this issue. I have emailed out a few copies of a test version of SBSettings to some users but never heard back. So I decided to release it. The new version made some changes in the dock icons enumeration code, but I cannot be sure that it solved the problem because I cannot see the problem occur in the first place. Please update and let me know. Update: this did not solve the problem. I cannot reproduce this and therefore will never be able to fix it unless someone that is very good in SSH that can reproduce the problem wants to email me and help out. This means you would be available to spend some time running development builds over and over again and giving me back logfiles. If you are interested in this and can reproduce this problem let me know. Otherwise, at least it works for me :)
New Toggle Addon
While messing around, I decided to write a new widget for SBSettings. This is not a toggle but another type of addon which I think shows the flexibility and power of this app. Note that this addition was done without modification to the main app.
The addition is a text widget – a quick notepad. You can type some text in it, and recall it later. But since it runs inside SBSettings, you can recall it from within another app. To see how this may be useful consider this. Suppose you get an SMS that's a password for a website. You cant remember it very easily so you want to write it down. Ok you pull up SBSettings while the SMS app is open and type the password into the text box. Later you open Safari and go to the web page that requires hte password. Now you can just pull up SBSettings while Safari is open, read the password, and type it in. (Sorry, no copy and paste but I think it's still pretty neat).
Here are some screenshots: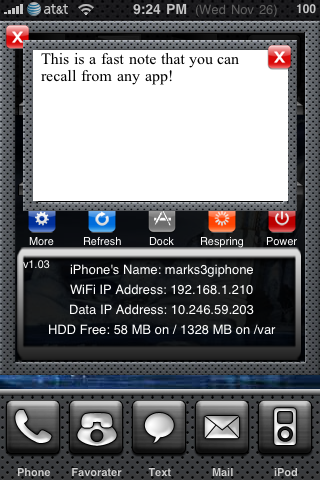 Mark Bruce & Kory Lee
Tags: fast notes, SBSettings, sbsettings addon, sbsettings fast notes
169 Responses to "SBSettings v1.0.4 and New Toggle Widget"
Leave a Reply