Update: The Dev-Team has just updated their blog in conjunction to MuscleNerd's Ultrasn0w Demo (that's what they are calling the 3.0 unlock)
* Only ultrasn0w is going to take til Friday to get pushed out. All of our other tools should be out pretty soon after the official Apple release.
* If you apply our jailbreak when it comes out, you can install ultrasn0w anytime after that. You obviously won't have cell service in the meantime, though.
* This may in fact be directly applicable to the iPhone 3GS if it can be jailbroken, because it runs the same baseband version. Whether or not it can be jailbroken is a big question right now!
Watch MuscleNerd's Ultrasn0w Demo
——————–
The Dev-Team Blog has just confirmed that they are in the finalizing stages of testing Pwnage Tool and Quickpwn that will work with iTunes 8.2.
In more anticipating news, they also announced that on Tuesday evening (just before 3.0 goes live), they will perform a live demo of the yellowsn0w carrier unlock working on official 3.0 firmware.
This is great news for all, as the image they provide shows the final 3.0 modem firmware (04.26.08) – basically sayings that all iPhone 3G's are unlockable – even ones that have 5.9 Bootloader and 02.30.00+ modem firmware.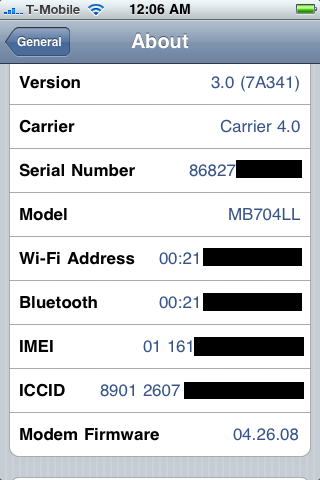 I would still recommend waiting on upgrading to 3.0 until the Dev-Team releases all information regarding the jailbreak and unlock.
Thank you Dev-Team!
Continue Reading ..>>